Holly and the Neighbors is a community of artists and curatorial collective who supports creatives of all walks of life and produces work that challenges the status quo, fosters a sense of wonderment, and creates a new kind of inclusive canon along the way. We strive toward equity and catalyzing agency and mobility in each other. We are dedicated to collaborating with people whose visions are other than our own. The staff and ever-growing artist network we are building with our organization is a strung together necklace of every pearl we've found by deep diving into the sea. Simply put, we are a hand in a hand. We bring in artists who are excited to weave their worlds into a tapestry clumsily at first, though growing aware over time. Who are searching for a microphone for which to not only speak, but to be heard. We are here to listen—we hope our audience is ready to do the same.
our story


Founded as an arts organization in Chicago in Winter 2020 by four friends who started out as neighbors, Holly and the Neighbors roots are truly planted in being a well-attended halloween party with a costume requirement (or one would be provided for you). After getting on the tin can phone precariously propelling from the third floor to the first floor, these friends decided to host our first art event—a spoken word poetry event over Valentine's Day weekend 2020. This event drew nearly 50 people to their third floor living space. Though this crowd was a slightly intoxicated colony of heartbeats, everyone took a seat and opened their ears for the 10 poets who shared their work. Mutual respect and encouragement felt in an energized safe space. A month later the world was sent into lockdown. In the first six months of quarantine, Holly and the Neighbor's newly founded virtual remote residency programs served over 80 artists from over 35 cities across the world. Our organization has and plans to host panel discussions, live art events, skill-share workshops, a poetry club, and solo and group exhibitions. Our love of accessible arts programming is our belief that honing one's creativity and innovation is an education in empathy and listening to oneself and others. These passions and deep reflective qualities when shared amongst a diverse community can catalyze progressive change toward a more equitable future.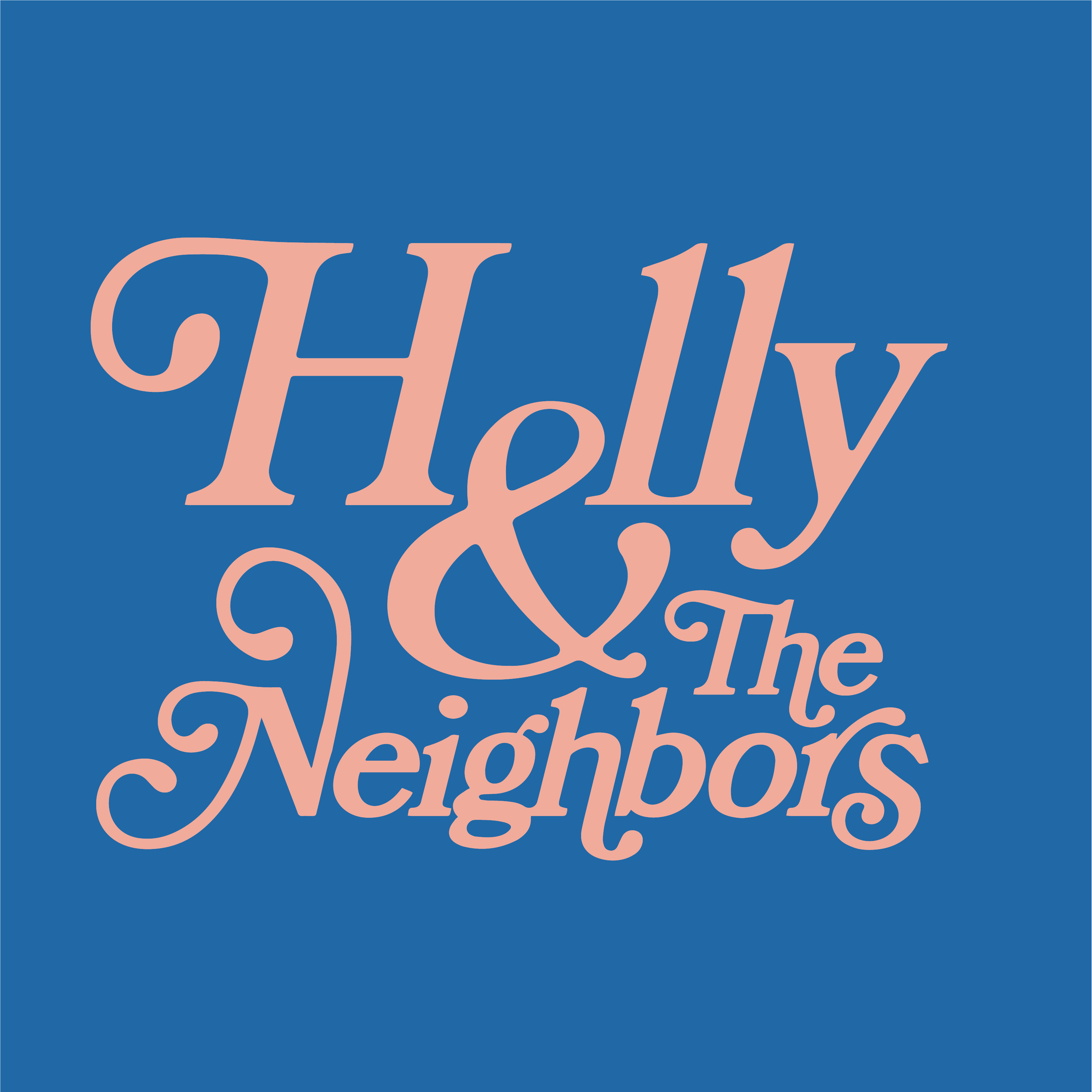 *at the moment, our team is
100% artist-run and
volunteer fueled.
alphabetized
by first name:

*at the moment, our programming is
100% artist-run and
volunteer fueled.

2021
︎︎︎Alison Kruvant
︎︎︎Carmen Popovici
︎︎︎Corey Smith
︎︎︎Darena Georgieva
︎︎︎David Nazario
︎︎︎DJ Malinowski
︎︎︎Dominique Lear
︎︎︎Emma Strebel
︎︎︎Ezra Arsenault
︎︎︎Francisco Donoso
︎︎︎Francisco-Fernando Granados
︎︎︎Flora Athena Natalini
︎︎︎James Slay
︎︎︎Jason Robert Bauer
︎︎︎Jessica DuPreez
︎︎︎Jiawei Zhao
︎︎︎Julia Kukkonen
︎︎︎Kathryn Kane
︎︎︎Kathryn LaMontagne
︎︎︎Kei Ota
︎︎︎Keny De La Peña
︎︎︎Kevin William Norris
︎︎︎Lariel Joy
︎︎︎Laura Waltje
︎︎︎Lizzie Beetles
︎︎︎llio sophia
︎︎︎Luan Joy Sherman
︎︎︎Mahsa Biglow
︎︎︎Manisha AR
︎︎︎Maria Plotnikova
︎︎︎Mayte Gómez-Molina
︎︎︎ML Kejera
︎︎︎Nava Levenson
︎︎︎Nikki Telegan (Pussy Grime)
︎︎︎Parinda Mai
︎︎︎Paul Anagnostopoulos
︎︎︎Rachel Weinstock
︎︎︎Romina Gonzales
︎︎︎Rose Carr
︎︎︎Sal Moreno
︎︎︎Sami Ismat
︎︎︎Sarah Abdu Bushra
︎︎︎Sara Zielinski
︎︎︎Sheldon Storey
︎︎︎Simone Renate Whiteley-Allen
︎︎︎Sofía Gabriel
︎︎︎Sonya Bogdanova
︎︎︎Stanley Février
︎︎︎Steven Emrich
︎︎︎Vanessa Castro
︎︎︎Will Zeng









2020

︎︎︎Alex Casso
︎︎︎Anthony Orozco
︎︎︎Anthony Sims
︎︎︎Arielle Stein
︎︎︎Camila Vela Giraldo
︎︎︎Chia Chun Huang
︎︎︎Courtney Surmanek
︎︎︎cr cooper
︎︎︎Dani Dimon
︎︎︎DJ Malinowski
︎︎︎dyoskuri
︎︎︎Emily May Jampel
︎︎︎Eric Capper
︎︎︎Erin Delaney
︎︎︎Ezra Arsenault
︎︎︎fabienne elie
︎︎︎Francisco-Fernando Granados
︎︎︎Gemez
︎︎︎Hannah Walhout
︎︎︎Jan Rybák
︎︎︎João Pedro Amorim
︎︎︎Karina Mago
︎︎︎Kathleen Radigan
︎︎︎Kathryn LaMontagne
︎︎︎Kellie Ann Krouse
︎︎︎Khadija Toor
︎︎︎Laura Waltje
︎︎︎Lindsey Parnell
︎︎︎llio sophia
︎︎︎Lucy Wanchun Leith
︎︎︎Luna G. Reiley
︎︎︎Madison Wilke
︎︎︎Mahsa Biglow
︎︎︎Mary Boo Anderson
︎︎︎Mia Morettini
︎︎︎Michael Adno
︎︎︎Paige Alice Naylor
︎︎︎Paula Rondon
︎︎︎Pete Sheehy
︎︎︎Pete Valenti
︎︎︎Phaedra Beauchamp
︎︎︎Pin-hui Chen
︎︎︎Rabha Ashry
︎︎︎Reed Fowler
︎︎︎Sachi Leith
︎︎︎Sara Zielinski
︎︎︎Seamus Carey
︎︎︎Seraphina Violet Cueller
︎︎︎Seth Sexton
︎︎︎Shanti Flagg
︎︎︎Simone Renate Whiteley-Allen
︎︎︎Spike Bahermez
︎︎︎Tajh Rust
︎︎︎Valentina Vela Giraldo
︎︎︎Will Zeng
︎︎︎Yannick Trapman-O'brien
︎︎︎Yue Xu